People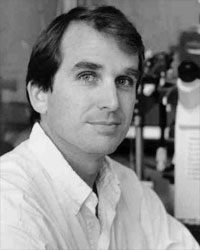 Daniel McGehee



The potent nervous system effects of nicotine are clearly evidenced by the widespread use of tobacco products. In addition to reinforcing smoking behavior, nicotine is also reported to have analgesic, anxiolytic and memory-enhancing properties. An interesting, but confounding problem in the field is that although nAChRs are expressed throughout the brain and spinal cord, there is very little direct evidence that they mediate synaptic transmission. Rather, a major role of these receptors is the modulation of neurotransmitter release via their expression on presynaptic terminals.
We are investigating the cellular mechanisms underlying nicotine's rewarding and antinociceptive effects. All drugs of abuse are known to enhance dopamine release from midbrain reward centers and this is a crucial step in the reinforcement of drug-taking behavior. We are investigating the cellular mechanisms that contribute to this change in dopamine output. Most addictive drugs display significant analgesic profiles and our studies are also exploring the influence of nAChRs in pain control circuitry.
John McDaid



I am interested in the physiological actions of drugs such as nicotine and alcohol, both of which are widely abused and co-abused. My current project focuses on the role of brainstem α7-nicotonic receptors in the effects of alcohol on motor co-ordination. Other projects are looking at the effects of alcohol on nicotinic receptors in the brain's reward center. This may lead to an explanation as to how alcohol enhances the rewarding effects of tobacco smoking thus leading to alcohol and nicotine co-abuse.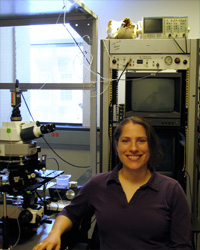 Claire Daniele



Chronic pain is a major problem facing medicine, and current analgesic treatments are often associated with side effects that limit their use. Nicotine is analgesic, and the existence of distinct subtypes of nicotinic acetylcholine receptors in the brain makes it a promising target for new analgesic drugs. Subtype-selectivity of new analgesic drugs will be required to circumvent side effects. I am interested in investigating the contribution of different subtypes of nicotinic acetylcholine receptors to endogenous pain control systems.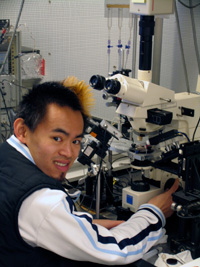 Austin Lim



Synaptic plasticity is believed to underlie a number of behavioral adaptations, including addiction to drugs such as nicotine. The ventral striatum has been identified as being important for mediating the rewarding effects of drugs. Cholinergic interneurons have been demonstrated to innervate many cells in the striatum and to modulate dopamine release. My research focuses on changes in cholinergic interneuron activity following drug exposure, and the subsequent downstream consequences of modifications to cholinergic signaling.
shannon wolfman
graduate student
Nicotine is the addictive component of tobacco, and smoking is one of the nation's leading health problems. The transition from nicotine use to nicotine addiction or dependence is of great interest. Acute exposure to nicotine can have both rewarding and aversive effects, and the balance between these effects is thought to contribute to the development of addiction. Using electrophysiological and behavioral assays, my research aims to explain how the neural circuitry mediating reward and aversion influences nicotine-related behaviors and to determine how the function and dysfunction of these pathways relate to nicotine addiction.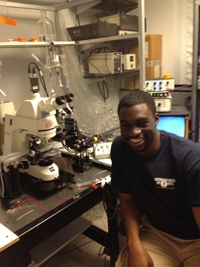 iboro umana
graduate student
Migraines are severe headaches that affect a substantial amount of individuals in the United States. In addition to pain, migraine sufferers display other symptoms, including nausea and blurred vision. Although the field has largely focused on vascular contribution to migraine pathophysiology, recent literature has suggested that dysfunction in descending pain modulation pathways could also play an important role in onset of migraines. My research is focused on neurons in the ventrolateral periaqueductal gray (vlPAG), a descending pain center that is located in the midbrain. I am investigating the role that cholinergic drive plays in vlPAG excitability. Furthermore, I plan to study the potential effects of vlPAG excitability on trigeminocervical complex neurons, which are downstream neurons that have been associated with migraine onset.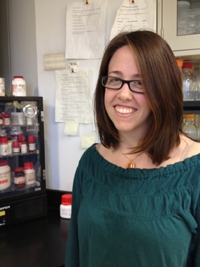 meg brown

research assistant
After graduating with a BA with Honors in Neuroscience from the University of Southern California in 2011, I joined the McGehee Lab as a research assistant. Employing biochemical and in vivo techniques learned in previous labs to answer current questions in the fields of chronic pain and addiction, I assist with ongoing projects and help manage day-to-day needs for the lab.